Description
【4K Monochrome LCD】Mars 3 Pro 6.66-inch 4K monochrome LCD screen with a replaceable anti-scratch tempered glass with 9H hardness for a better light transmittance at 4098 x 2560 high resolution, protecting the screen while restoring model details to the greatest extent.
【Powerful COB Light Source】Mars 3 Pro Upgraded free-form surface COB lens consists of 36 highly integrated UV LED lights, paired with Fresnel lens to deliver an even beam of 405nm wavelength with 92% light uniformity for a more smooth surface finish and incredible printing quality.
【Large Build Volume】With a large build volume of 143×89.6×175mm (5.62×3.52×6.8 inches) for 3d printer, you can print one large model or undergo batch printing in a single job, which saves your time and greatly improves your productivity.
【Designed for Reliability】Non-slip hexagon socket leveling screws work with the sandblasted oxide surface build plate for stronger adhesion and more stable printing. FEP2.0 release film with less release tension for a higher printing success rate.
【Better Printing Experience】The air purifier with a built-in active carbon filter to effectively absorb and filter the resin odor and pungent fumes, giving you a fresh printing experience. Copper heat tubes and a powerful cooling fan with faster heat transfer and better cooling efficiency, extending the life span of 3D printer.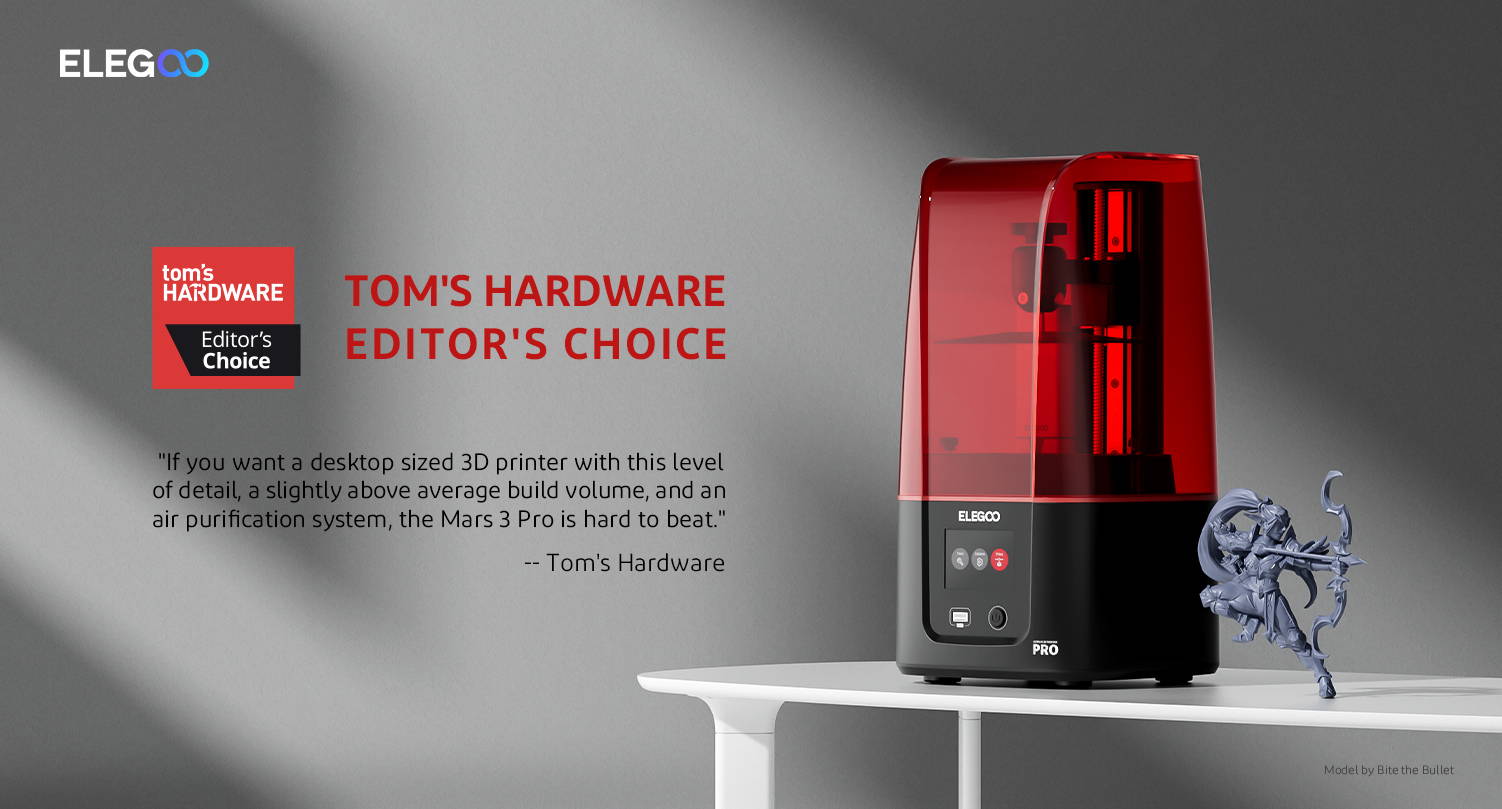 ELEGOO Mars 3 Pro comes with a 6.6 inches 4K mono LCD screen with a resolution of 4098*2560 and an XY resolution of 35μm, providing prints with fine details and high precision, which far surpasses FDM printers in quality and speed.
In addition, there is a replaceable scratch-resistant tempered glass above the LCD screen with a perfect fit for better light transmission and protection.
High Stability with High Throughput
Sandblasted surface build plate with non-slip hexagon socket screws for quicker and easier leveling, which is more stable for printing bigger models or multiple small parts in one go in a large build volume of 143.43×89.6×175mm /5.647×3.52×6.8 inches.
With less release tension to better protect the small supports, so that the parts won't stick to the PFA Release Liner release film due to excessive suction when printing, thereby improving the printing success rate at a higher level of detail.